In the case of an internal emergency – natural catastrophes or imminent threats to the existence of a federal state or its democratic constitutional order – the Bundesrat is primarily entitled to exercise oversight, as well as holding rights of defence. It can demand that the Federal Government cease to deploy armed forces or police forces if it takes the view that such deployment is no longer necessary (Article 91, Sub-section 2, Basic Law)
In the case of an external emergency, Bundesrat consent is required to determine the state of defence (Article 115a, Sub-section 1, Basic Law). As the Federation is granted broader legislative competence in this case, the Bundesrat is accorded enhanced rights to participate, can require the Bundestag to adopt a decision to end the state of defence and, in conjunction with the Bundestag, can declare that the state of defence is ended.
If the Bundestag is no longer able to convene when a state of defence arises or is unable to do so in a timely manner, a special body previously established during peacetime is authorised to act in lieu of the Bundestag and Bundesrat: the Joint Committee. Sixteen of the 48 members of this committee are members of the Bundesrat.
The Joint Committee pursuant to Article 53 a Basic Law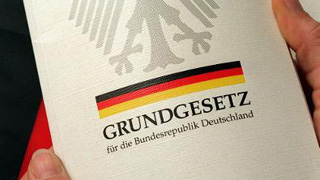 Loi fondamentale
The Joint Committee exercises the rights of the Bundestag and the Bundesrat in a state of defence if there are insuperable obstacles to timely convening of the Bundestag or if the Bundestag cannot muster a quorum. If these conditions pertain, the Joint Committee is also empowered to determine the state of defence (Article 115a, Sub-section 2 and Article 115e, Basic Law).
Composition
The Joint Committee is made up of 32 Bundestag members and 16 Bundesrat members. The Bundestag members are appointed by the Bundestag as a function of the relative size of the various parliamentary groups and may not include members of the Federal Government. In the Bundesrat, each federal state appoints a member to represent it on the Joint Committee. These members are not bound by instructions.