Composition
Every federal state has one member and one vote in each committee. The Bundesrat has 16 committees. The committees are allocated areas of responsibility that broadly correspond to the policy areas addressed in the various federal ministries. That means that the Federal Government's expert knowledge is complemented directly by the Bundesrat's know-how – in other words, by the expertise of the federal states, the Länder.
The heads of the Länder governments generally represent the federal states in the Committee on Foreign Affairs and the Committee on Defence, which are therefore referred to as "political committees".
In contrast, the other expert committees, such as the Committee on Economic Affairs or the Finance Committee, are made up of the relevant ministers from the federal states. All committee members may be represented by "delegated commissioners", i.e. expert officials from the ministries in the federal states (Article 52, Sub-section 4, Basic Law). Committee members frequently make use of this option, particularly in the expert committees. Some committees even meet primarily in this type of "civil-servant configuration". During any meeting, various delegated commissioners may take turns as representatives to ensure that the relevant experts from the Länder participate in the deliberations on each agenda point: for instance, in the Committee on the Environment, Nature Conservation and Reactor Safety, this might include experts on soil protection, water management, waste disposal or immission control.
Working methods
Particularly in these expert committees, which are of course not apolitical, the main focus is not on dramatic debates, but on extremely precise practical work.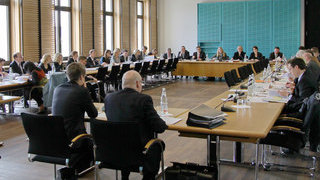 Meeting of the Committee on Legal Affairs
© Bundesrat
Draft legislation is examined in great detail in these committees; this is where the federal states can exercise legislative oversight, and contribute to shaping and improving bills proposed by the government or the European Union.
The excellent reputation of the Bundesrat's committees is rooted in the committee members' solid specialist knowledge, and the ongoing experience gleaned by the federal states in implementing legislation, with the particular insights that come from being close to citizens and to the impact of policy decisions.
Part of the ongoing dialogue between the Federation and the federal states also unfolds in the committees; the Federal Chancellor and all Federal Ministers are entitled to attend committee meetings (and the Bundesrat's plenary sessions) – and indeed have a duty to do so, should the Bundesrat request that they attend (Article 53, Basic Law). They also have speaking rights in these meetings.
Civil servants from the federal ministries, known as commissioners of the Federal Government, may also attend committee meetings. As a result, experts from the executive bodies of the Federation and the Länder sit round the table together for discussions in the Bundesrat's committee rooms.
The committee meetings are not public, as discretion is vital for open and frank debates, particularly as confidential issues may also need to be addressed.